Active Doodie® Dad Diaper Bag Messenger with Dad Squad Patch Combo
$59.99
$69.99
saving
$10.00
Active Doodie® Dad Diaper Bag Messenger with Dad Squad Patch Combo
$59.99
$69.99
saving
$10.00
Free Same Day Shipping ($15 Min)
Delivered in 3 Days!
Active Doodie® Dad Diaper Bag (Dad Squad Variation)
Our Dad Diaper Bag Messenger with the Dad Squad Patch Variation is designed for men and can handle the destruction that often comes with kids! Built tough with military grade materials and features to make life as a Dad a bit more organized. Drop it or drag it to that play date or weekend camping trip, Active Doodie® Dad Diaper Bags can take it!
REMOVABLE DAD SQUAD PATCH SERIES
ADJUSTABLE SHOULDER STRAP
WATERPROOF CAMO CHANGING PAD
XL DIAPER POUCH
EASY ACCESS WIPES POCKET
INSULATED BABY BOTTLE POUCH
PACKING CUBE WITH MOLLE WEBBING
11"T X 17"W X 8"D
10 YEAR WARRANTY
VETERAN OWNED, USA COMPANY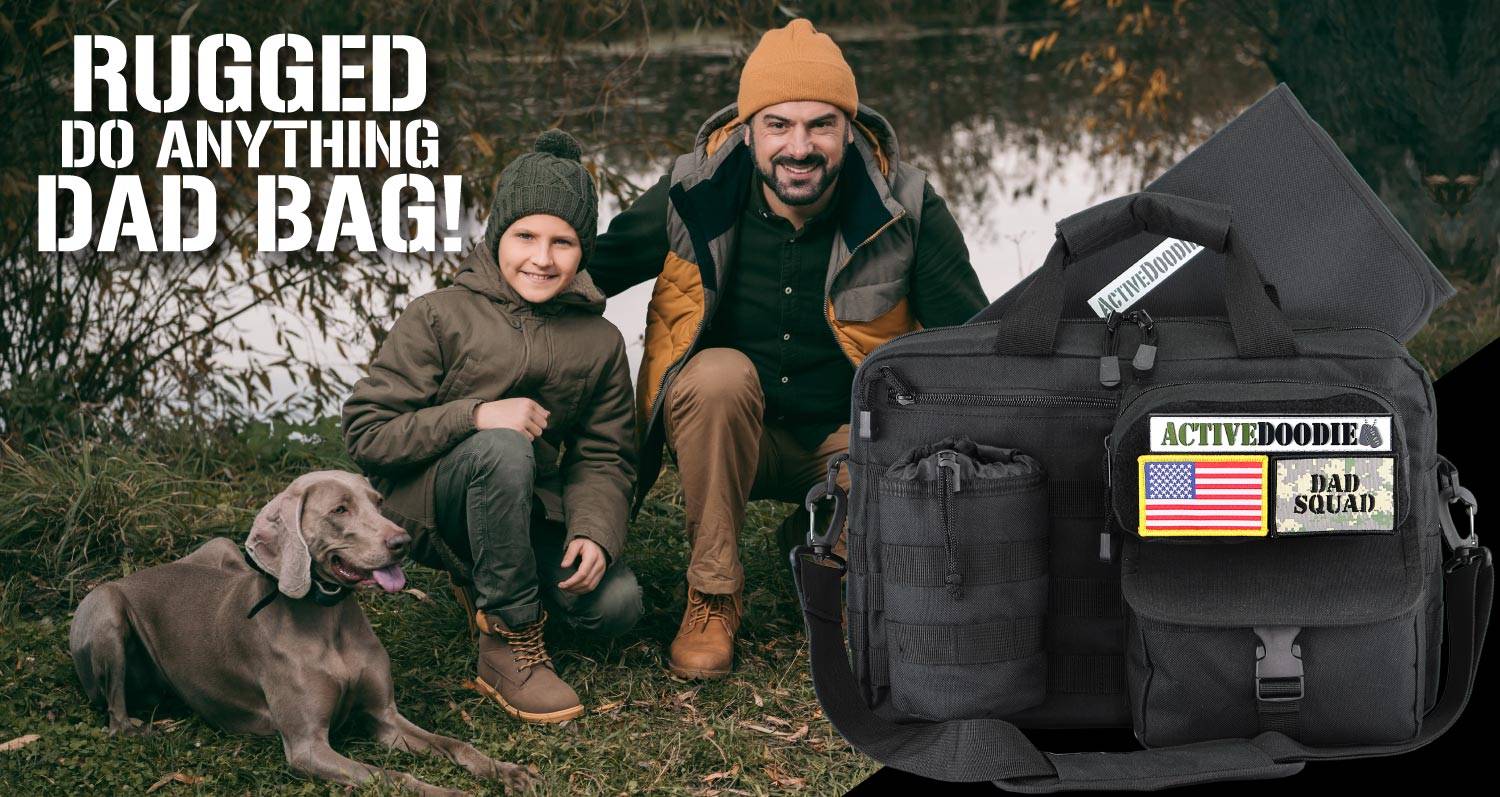 Active Doodie® Dad Gear is for the best job you will ever have, being a Dad. We built our diaper bags with "Dad Strength" down to the last stitch and included easy to use features to give your baby gear plenty of storage and easy access compartments.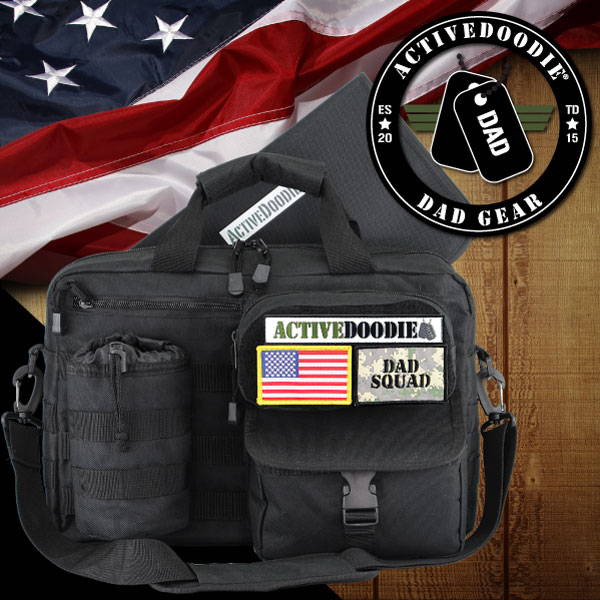 Being a Dad means you sometimes have to change a diaper while out and about and the world is not a clean place. Each of our Active Doodie® Dad diaper bags come complete with a 11.5" by 23" camo style changing pad to give a little comfort and create a sanitary barrier between that questionable public changing table and your little person.
We didn't build the perfect Diaper Bags for Dads with just a single use but a bag that will transform well into your Dad adventure. With so many features and durable design the Active Doodie® Dad Diaper Bag will transition from carrying diapers and pacifiers to t-ball shoes or soccer gear like a champ!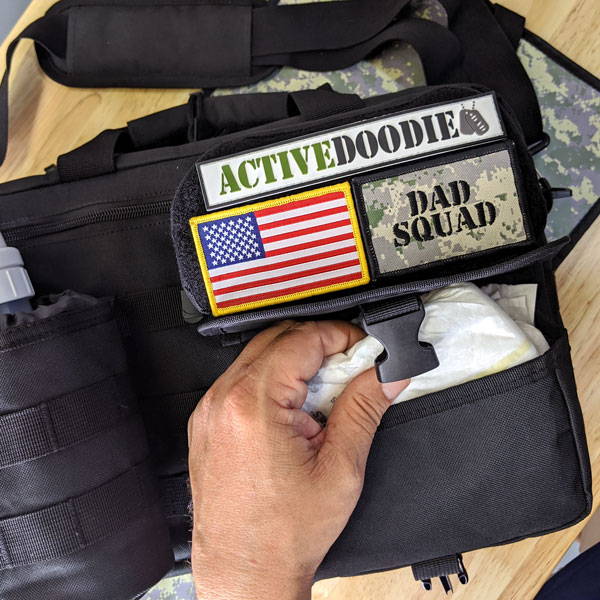 Active Doodie® Dad Gear is built to handle the destruction that often comes with kids. Made from Military Grade 600D Polyester you can toss it, drop it or drag it to that play date and Active Doodie® Dad Diaper Bags can handle it!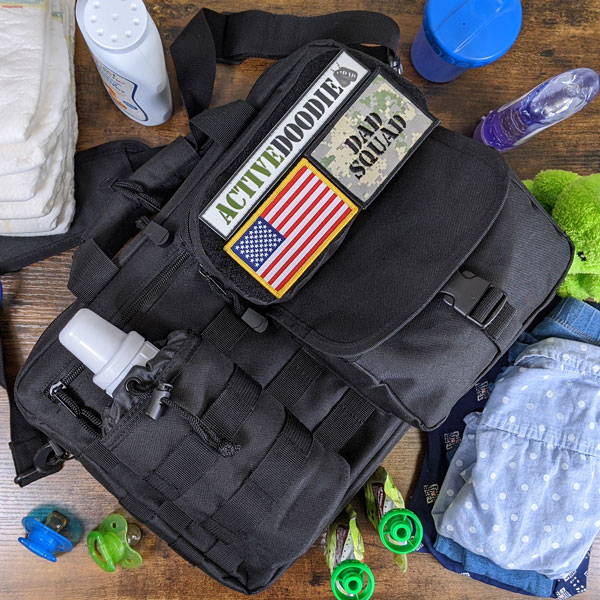 Hashtag us using #activedoodiegear and don't forget to follow us at @activedoodiegear for deals, giveaways and awesome stories from fellow Active Doodie® families!
Active Doodie Diaper Bags for Dad offers the best Dad Gear for the modern Father. Each Active Doodie Dad Diaper Bag is a Military Style Diaper Bag with features designed to make parenthood a little easier. When it comes to mens diaper bags, Active Doodie offers the highest quality, durability and most features. Be a ready Dad with our molle system, changing pad, insulated baby bottle holder and so many other features Dads have come to count on for years from our Active Doodie Baby Bags for Dads! Don't be fooled by lesser Daddy Diaper Bags and go with the proven brand, Active Doodie® Dad Diaper Bags.
Free Same Day Shipping ($15 Min)
We Never Sell Customer Information, Ever.
Vix oporteat gubergren ne, dicam altera argumentum mei no, an ius verear offendit tacimates. Sed eu sumo labitur verterem, quod feugait euripidis ex sit30 Day Money Back Guarantee.