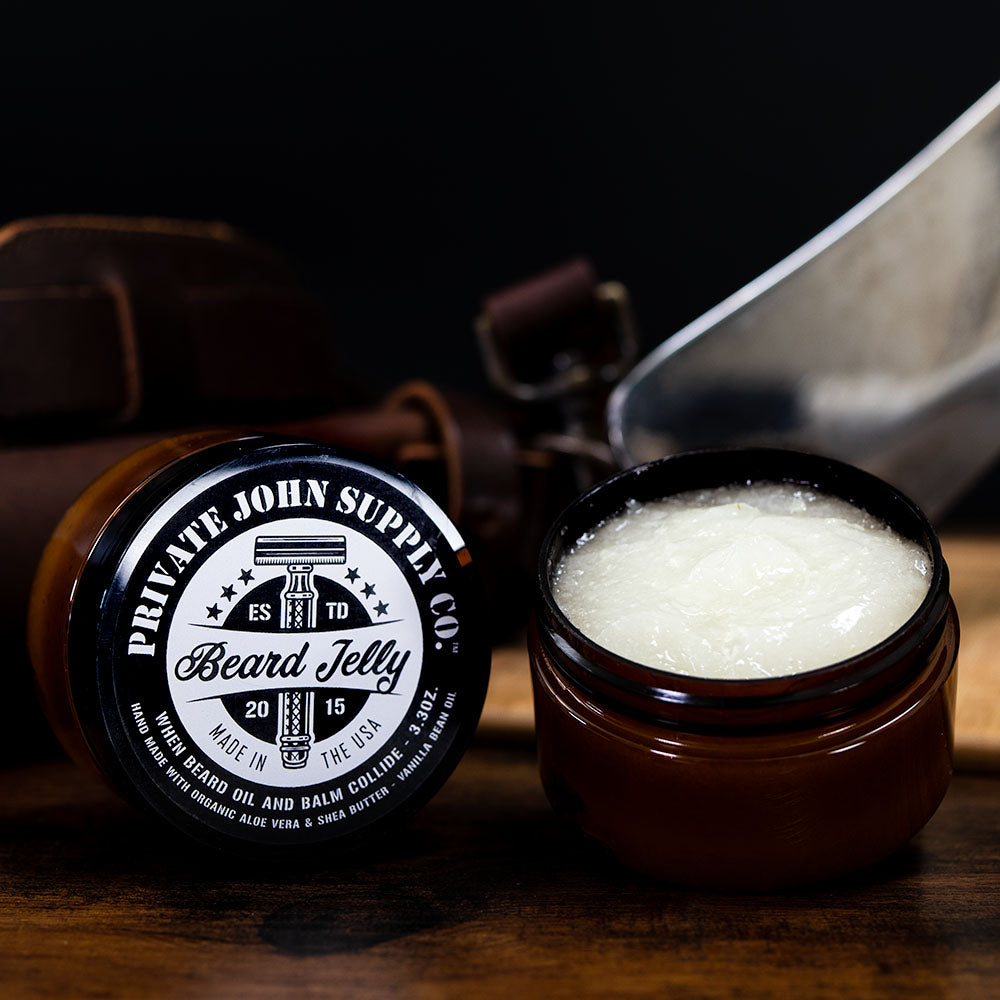 Beard Care Gift Set for Men | 8 Pieces
---
In the Box
Beard Wash with Hemp Oil
Beard Conditioner with Sea Moss
Beard Oil All Natural (Sandalwood)
Beard Balm All Natural (Sandalwood)
Hand Cream with Organic Aloe Vera
Beard Jelly with Avocado Oil (Vanilla)
Growth Balm All Natural
Maple Beard Brush
Black Gift Box

BEARD CARE GIFT BOX
Made in the USA Private John Supply Co.™ Beard and Body Gift Sets. The perfect gift for any man that cares about how they look and what they put on their body.
Premium Ingredients
Private John Supply Co.™ beard grooming and mens body care products are wholeheartedly committed to making sure each product we offer is of the highest quality. Care for your beard, face and hands with complete confidence.
Natural Ingredients: Sweet Almond Oil, Sunflower Seed Oil, Avocado Seed Oil, Bees Wax, Shea Butter, Rice Bran Oil, Vitamin E.
Sunflower Seed Oil, Sweet Almond Oil, Rosehips Fruit Oil, Avocado Oil, Argan Oil, Jojoba Seed Oil, Pure Vitamin E Oil.
VEGAN Ingredients: Purified De-Ionized Water, Aloe Vera to naturally soothe skin, Fresh Coconut Oil to moisturize, Palm Stearic Acid (a natural thickner), Vitamin Rich Avocado Oil to soothe skin to help lessen irritation from shaving, Emulsifying Wax, NF (bind water and oil together), Vegetable Glycerin (a Natural Humectant), Decyl Glucoside, Vitamin E (a Powerful Antioxidant), Ethylhexylglycerin, Phenoxyethanol (a Paraben Free Preservative).
Organic Aloe Vera Juice, Cocamidopropyl Betaine, Sodium Decyl Glucoside, Sodium Lauroyl Lactylate, Kosher Vegetable Glycerin, Citric Acid, Sodium Chloride, Organic Hemp Seed Oil, Ethylhexylglycrin & Phenoxyethanol (Ecocertified Paraben Free Preservative) Ricebran Oil (Rich in Vitamin E).
Beeswax, Shea Butter, Sweet Almond Oil, Olive Oil, Castor Seed Oil, and Vitamin E and Eucalyptus Oil.